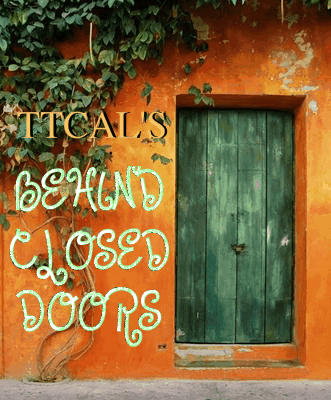 The following guidelines for access into our private forum have been established to protect our privacy. Access is granted to any TTCAL member or grad that is active in our main forum or in our "Rainbow After the Storm" forum. (See below for more details). Most importantly, we'll be looking for members who really contribute to a sense of community and friendship with each other in their TTCAL journey. If you feel you meet the criteria, PM Pam (jamc609) for the password key to get in "Behind Closed Doors".

Please do not be offended if you aren't granted access right away. This may just mean you will need to be more active and establish trust within our main TTCAL forum.
TITLE of SUBFORUM:
Behind Closed Doors
PURPOSE:
A private place where we can discuss, share, and vent about TTC and/or non-TTC topics.
ACCESS:
In order to maintain privacy, this will be a
password protected
forum. You must retrieve the password "key" from me to unlock the forum.
Access will be granted to trustworthy, TTCAL members and grads that:
We love and appreciate our supporters, but really - we are looking for members who contribute to the sense of community and friendship with each other during our TTCAL journeys.
Posts frequently in TTCAL forum and subforums - several times a week, if not everyday and on a consistent basis (not just random posting bouts).
Posts have substantial content - not just short "good luck's" and "that's great" type of comments.
Starts a few quality threads to help keep the forum moving
Gives support to other TTCAL members
Shows a positive and friendly attitude
The decision to provide access will ultimately be by Pam (jamc609), based on her observations on how often and how consistently you post in TTCAL. However, I will be asking existing members in the subforum for their input, as I want to make sure they feel comfortable too.
Please do not be offended if you aren't granted access right away.
This will be a sanctuary for us, and want to make sure that everyone who is admitted is truly an
active
member who contributes to a sense of community and friendship here in TTCAL. She must also display that she is trustworthy since we might be sharing very personal and intimate details. If you are
not
granted access, please continue to visit in our main TTCAL forum to establish trust.
RULES:
1. First and foremost, while this will be a private space, the subforum will abide by TMP's
Terms of Service
(Please review the TOS before posting in the subforum) - particularly.....
Quote:
1. Keep your posts family-oriented and rated "PG"
Do NOT post offensive language, implied offensive language (ex. SH*T is not allowed), indecent photos or media, abusive comments, illegal content, or derogatory racial or religious comments.

2. Respect others.
We are a support community of unique adults with a wide range of views and opinions. We want to lift up our differences – not bring each other down. You may not post simply to stir the pot. Personal attacks, disruptive posts and all forms of disrespect are not allowed. Please stick to the topic and make all efforts to post in appropriate forums.

3. Be yourself.
Members are permitted to have only one account. You may not impersonate the identity of others. You may not register multiple accounts. You may not register an account with the intent to cause drama. Additionally, those members who register then spam only in order to access private forums may have their accounts closed at the Administrations discretion.

All pictures and posts must be your own original work – you may not post copyrighted material. You may post links to helpful articles or informational sites. Keep your password secure. You will be responsible for all activities that occur under your unique user name and password.

4. Use good judgment.
This is a public forum, and an excellent medium to share wisdom, stories, images, and advice. Remember, this is a public forum – be careful what you post.

Don't post your last name, home address, license plate number, credit card number, or other information that should remain private. Don't post private information or photos of others without permission.
All posts will be saved, and it is your responsibility to remove personal information should you decide to delete your account.
2. Once granted access to the subforum, please remember that very personal information
must
be safeguarded.
DO NOT share password information with other members under no circumstance. If it is discovered who had been distributing passwords, she will no longer have access to the forum for an indefinite time, if not permanently.
Remember the motto... "What happens IN "Behind Closed Doors", STAYS IN "Behind Closed Doors". Please do not share/distribute/discuss any information, details, or pictures that are posted here outside of the subforum.
Passwords may be changed, at any given time, to ensure privacy. Access to the subforum may be again subjected to guide decision, based.
As guide,
my primary focus is protecting the privacy of our members in this particular subforum
. I reserve the right to select who is given access to the subforum as well as revoke access to members who do not abide by those terms. Additionally... if you feel that another member does not follow these agreements, please PM Pam (jamc609) and/or report the post so that either she or the admins could follow up.
We look forward to getting to know you ladies a little better in our private forum!